April is massive for activations of every kind, all new levels of initiation expanding into more light after these contractions. The solar maximum cycle activity, astrological transits and the portals are peaking into intensities beyond what we imagined possible. Many are at their breaking point in this stage and this is a long sum game.
Those on the journey just waking up to the process will be very challenged to the brink of insanity. Perceptions of how we define insane vs sane will continue to become more blurred and confusing for folks as our consciousness shifts to all new places, so it is vital to stay grounded within our center core heart temple.
Joan of Arc came in with Archangel Ariel and the Lyrans in the meteor shower of this time of the year to share so much courage, grace, faith and strength with us to support humanity and the wayshowers all at once. We have to show up as the integrated pure presence to support this shift, and this requires mega courage to stand up, speak up, leave, create new boundaries or take action as is aligned, particularly when we have many who are in deep states of amnesia who also cannot yet articulate or understand what is happening. We came to be the pure ones, the ancient ones, the ones who show the way.
These are the times of the saints, archangels and mystics of the highest order streaming in to support us to be the pure peace, love, pure power at this time to align our selves and encourage one another with divine grace. Self care and compassion are the keys.
In loving service, Merissa Indigo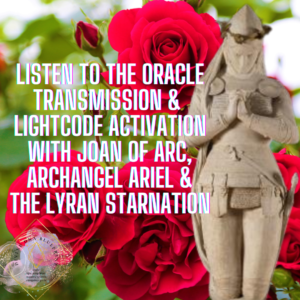 To listen to the Oracle Transmission podcast with Joan of Arc click HERE

Bliss through Breath 101 – On demand course with 5 sacred breath techniques to calm the mind and inspire the heart…
Our breath can be an immediate point of entry to connect with our inner peace and help calm the mind, as well as receive inspiration! It is an ancient technology for the spiritual awakening journey.
Learn ancient breath techniques of the Yogis with Merissa! 5 different breath practices for balance, to energize or relax as needed. Find peace and inspiration in mere minutes, connect to your Higher Self Divine Mind. Open, strengthen your third eye w Pranayama -sacred Yogic breath for clarity, creativity, connection.
This online webinar is a self paced, on demand master class and includes detailed education of the anatomy and physiology of the lungs as well as a complimentary ebook with practices to have ready on the go. See course outline and details to enroll HERE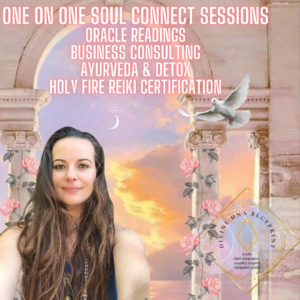 Soul sessions, oracle readings, Ayurvedic health and detox consulting and Holy Fire Reiki attunements
Sessions include oracular soul-stream readings, Holy Fire Reiki, Divine Mother teachings, Vedic wisdom and so much more. Each session is a unique experience with an entirely individual blend of Merissa's numerous subjects of expertise as she is a Living Lightbrary of intel. In session she will retrieve the information in an oracular state for you live based upon your soul's wisdom during the session. Soul sessions, oracle readings, Ayurvedic health and detox consulting and reiki certification details HERE